Image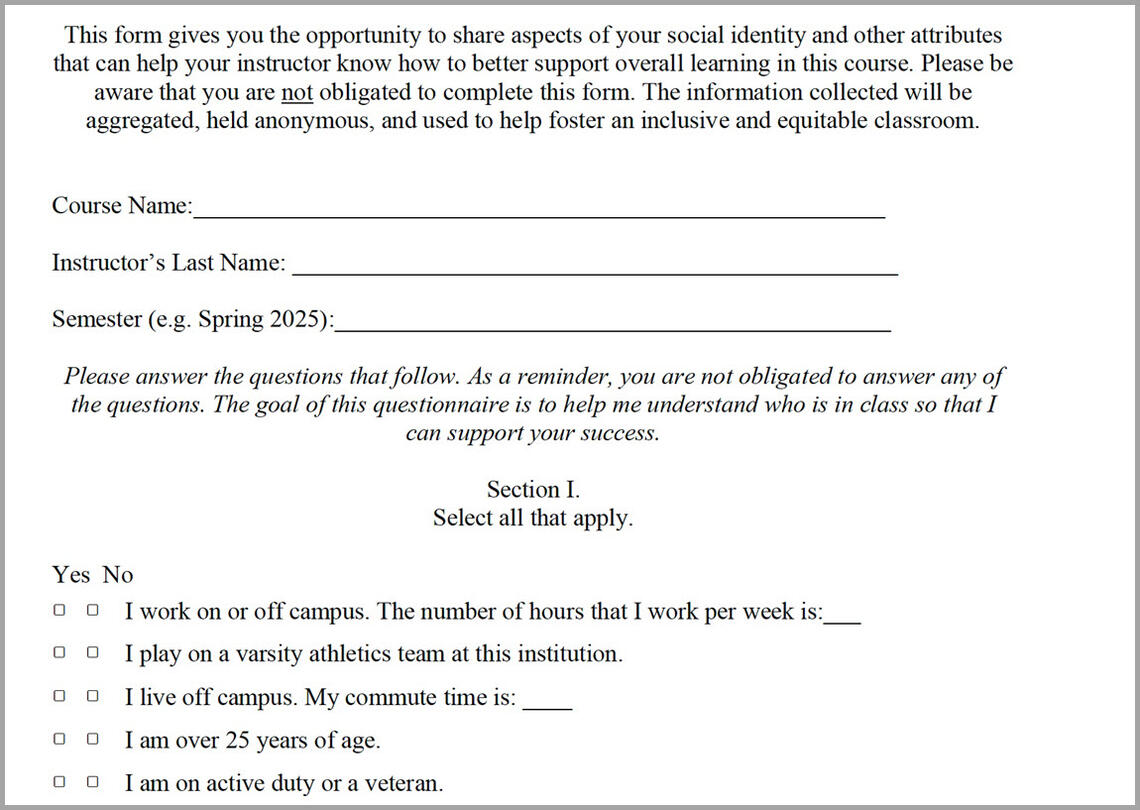 Photo Credit
Credit: Addy, T., et al. (2021). What Inclusive Instructors Do. Stylus Publishing.
A great way to begin with an inclusive tone and show your commitment to helping students succeed is to gather anonymous information from your students so that you have a good idea of who is in your classroom. This sort of voluntary activity can help students disclose their equity challenges, perspectives, and other factors they'll bring to class, like emotions and mindsets. Keeping it anonymous promotes safety, and the shared information can help you to foster an environment of belonging for everyone involved.
Review the form results early in your course and work with the Dutton Institute to formulate an action plan for adjusting instruction to make sure that it's equitable and inclusive.
A "Who's in Class Form" or "First Day Information Sheet" can take many forms, but the one developed by the Center for the Integration of Teaching, Learning, and Scholarship at Lafayette College and available for public use is excellent and can be found via a Google search.
For more information about use of this form and making changes based on information you gather, see Chapter 6, "Using a Tool to Support Inclusive Teaching," in What Inclusive Instructors Do, by Tracie M. Addy, et al. and available as an e-book via the Penn State Libraries at this link: https://ebookcentral.proquest.com/lib/pensu/detail.action?docID=6627444
*Note: this sort of activity is best undertaken by instructors and learning designers who have participated in professional development training to address unconscious biases.
Research Associated with this Example
Contributor(s)